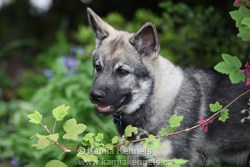 Male Elkhound Tesla
I have been fortunate throughout to have people stay in touch and send in photos and stories of the pups and this last litter is no exception. Julia and Eric keep us posted on how Tesla, a young Male from Mia and Takoda is doing. I laughed when Julia was describing Tesla and his guarding instincts. Julia mentioned he has no trouble letting them know when he smells something out of line outside, "charged downstairs", "threw himself at the door", "barked for 3 hours", "skunk", were just some of things that were mentioned that night about his guarding instincts. I thought to myself, that's my boy. Tesla comes from one of the preeminent ancient Elkhound guard dogs, ole Takoda himself, so it sure doesn't surprise them, or me.
The Elkhound is territorial, takes very little time to know it's territory, and woe be the skunk passing through, although we all know who ends up on the tail end of that encounter, however as far as Tesla is concerned, he has a trespasser he must deal with. These guys are fearless, even as pups, they have instincts to protect from way back. The Swedish Elkhound is known for this trait, combine that with the loyalty, and you have every reason to see why they are the best dog.
Julia and Eric are quick to point out, and in the exact same message, send photos of Tesla in the bike carrier with young Katherine, just the greatest family pal for the kids you could imagine. If there is one thing about Elkhounds, they are a family dog, the bonding and pack instinct is so strong, it's one of the traits that most defines this breed. Tesla, he is a perfect example of all the reasons why the Elkhound is so unchanged and such an ancient dog, and why we try to breed using old world principals that retain these traits and instincts, and keep these intact for future generations.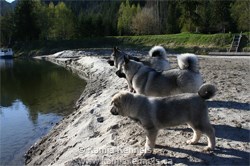 Kate - Female Norwegian Elkhound - with her new pals Lisa and Suzie
David and Colleen have been keeping me posted on how Kate is doing, and believe me, she has it made. She is living in paradise, protected and watched over by two beautiful Elkhound females, her new best pals, and playing in the sand and sleeping under the stars in the Shuswap, life for a young Elkhound couldn't get much better. Kate is a female from Tora and Bram, an outstanding pair, and as you can see, she better come each day in her best dress as those two girls, Lisa and Suzie are prize winning Elkhounds, this is the everyday attire for them.
David and Colleen have 3 of the nicest females you most likely will ever see as a group, you come boating along and see these three watching you from the shore, you'll be slowing down and it's all hands on deck, you just don't see this every day. Kate is in good hands and she is fitting in just fine.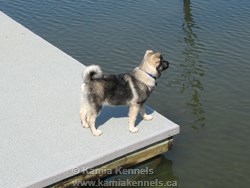 Ryker - Norwegian Elkhound Male 15 weeks
Ryker, a solid 27.5lbs shown here at the 15 week mark, Amber and Chris had him out to the cabin and Ryker was in his element. This is a very well built male Norwegian Elkhound, he has a great stance, he is alert, yet he is steady. Amber had sent a photo of Ryker watching a deer move through the meadow just below him, he kept his eye on him all the time, not wound up or spooked out, just steady as can be. This is a good boy this Ryker. Chris and Amber are an even steady couple, young, energetic, but have a nice easy way about them. When they came up to see our dogs, it was easy to spot the calm nature, both Tora and Mia, they just curled up, sat right on them, they could sense this immediately. Your dog will tell you in minutes about the nature of an individual, as Ryker was developing and we watched his behaviour we knew Ryker would be a great dog for them.
Ryker has Norwegian Elkhound traits stamped all over him. He has a real black mask, it extended right to the ear line, he will have a nice dark coat, with a really good silver mix. Amber and Chris will provide a terrific home and environment for Ryker, he gets tons of exercise, which by the way, Elkhounds need a lot of. These are powerful dogs, they are moving all the time, as anyone of the owners will tell you, getting a good photo even of a dog standing still is a job, so our many thanks Amber and Chris and everyone to the good homes provided, but also to the effort to get the photo's we know what that's like.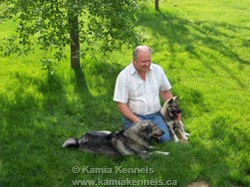 Shasta and Takoda and I
Shasta, the only female from Takoda and Mia in this last litter came back to visit for a while. Lynn, Lawrence and Payton, live in Slave Lake, and had to evacuate and leave home because of the massive fire that swept through, we offered to look after Shasta till they got settled back in at home. Thankfully for them, their home was sparred, but some damages were done. Our thoughts to all those in Slave Lake who experienced the devastation of this fire.
Takoda thought he had a new shadow, were he went, Shasta went, I don't recall a pup being so much like Takoda in every way. We had so much fun with her, she is a great female. Shasta has some seriously dominant side to her, we knew this right from day one with her, but you would not believe the time Mia and Tora had trying to get her in line, with zero success. Mia has this squeaky toy, and for five years, thrashes anyone who dares touch it, well, Shasta would grab it, and squeak it like crazy, Mia all the time was trying to wrestle her down and get her toy back, nobody squeaks her toy. Shasta just kept getting this thing and burning around, Tora and Takoda watched in Amazement, they are thinking, man that is dangerous.
Next, Shasta would pile into Tora and wrestle and scrap for an hour straight, when she was done there and Tora was played out, Mia has to go a few rounds, she even had Takoda working to keep his composure, what a bundle of energy.
The Swedish Elkhound strain has one thing that stands out in personality over the Norwegian and it's the personable nature to the handler. When I come to the gate Takoda and Tora, it's usually a race to see who can get to me first, Mia, she will see me when she see's me, but with Shasta, it's the same as Takoda, only increased, she was the first one to the gate every time, just burning over. It's like a mini Takoda all over again. When I sit in the yard, these two, they couldn't get any closer. These are some good dogs. It was a really good thing for Shasta, she witnessed some interaction and behaviours and traits and roles that most dogs never get in a lifetime.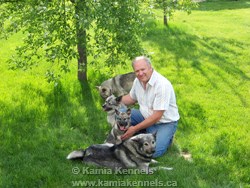 Takoda has been trained to do and allowed to exhibit more natural tendencies than most dogs, call it what you like, but basically in short form, he is not socialized to where his natural behaviour and protection have been altered or trained out. For Shasta, she won't encounter this training again in her lifetime, to be beside him, watching and learning is something that she can use throughout her life, there are very few people that have their dogs at the level Takoda functions at in the functions he does. She was able to experience and participate in work that most dogs will never get the chance to be in. It will make her a better dog, although you couldn't improve on her to begin with, all you want to do with a dog like this is allow her natural ability to shine through.
Don't get me wrong, Takoda is not trained better than any other dog, every dog can be trained to be excellent at roles, Takoda is trained for his roles, he is allowed to express his natural ability and instincts all the way, and he is trained to his heritage. Most people couldn't train their dog to this role as we rarely live in situations where you could have this, this is a choice we make. But for Shasta, as she grows up, she has a young companion and handler to watch over in Payton , she will be a better dog as a result.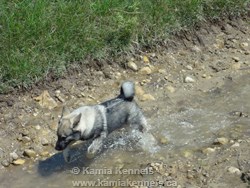 Jaegar - Ashten's Male Elkhound
I recently put a brand new article after doing a great hike with Jaegar, spring of 2016, please check it out. Offleash hiking dogs. Some seriously good photos of the dogs in the mountains.
Even though I am biased as you know, it would be a ton of traveling and searching to find a better male than Jaegar. Our daughter's best buddy Jeagar, is out of Takoda and Mia, brother to Shasta and Tesla. It's hot in Ontario and Jaegar is always burning around in the streams to cool down. Ashten was able to get these photos at the end of May, Jaegar was born February 12th. He is a big boy, strong and with a powerful frame shaping up. Jaegar, as does Tesla, brings all the old world Swedish traits forward with him, some old stories say the history could be 9000 years old this breed, with lot's of archaeological and other data easily going back 4000 - 6000 years. Jaegar is pretty much unchanged from them old boys of ancient times.
We are actively planning a trip overseas in the next while so that we can get a new old world female for Jaegar, we expect his pups to be truly outstanding. All his brothers are truly terrific dogs, his sisters all outstanding. Jaegar is getting more modern day training, not so old school, so he is socialized to a degree, Ashten won't need the vet to clear the building when she brings him in, like I have to with his dad. Jaegar will be a well balanced male, he brings the great stature of Takoda, with the solid muscle and balance of Mia. Jaegar will probably end up being one of the few males to outweigh Takoda.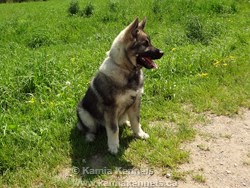 When you hear the old stories of how the Elkhounds cleared the Scandinavian regions of the wolves, it was males like Jaegar these tales speak of. Solid, muscular dogs, pound for pound able to stand with any, hard working, loyal dogs, one owner dogs. Dogs like Jeager are the old Viking dogs, traveling and hunting with their owners, used to bring home the food, provide companionship, chase off the odd bear. In modern times, it's dogs like Jaegar that provide that loyal friendship for young ladies a long way from home, a link to familiar home life in a busy place, and as he grows, a true companion, pal and protector.
Jaegar has some brand new Viking Dog pups on the ground right now in 2016. It was years after I put this update online that Jaegar and his dad, Takoda saved my fat butt from the wolves, check out the Elkhounds and Wolves story.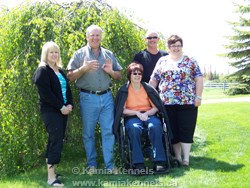 Great Family Surprise
A few days back Marlene and I were doing some yard work and a convoy of vehicles starts driving in, I thought what's going on. Here my 3 sisters, Jenny, Carolyn, and Marlene, along with my Brother Dale, and Carolyn's husband Randy, daughter Cara, and Wade, Jenny's husband and two boys, Kyler and Kieran all came to say happy birthday, as I had finally made it to 50. We had a great visit, it's rare for all of us to get together and share some Elkhound tales and show some Elkhound scars so it was a great time and a huge surprise.
They all appreciate the work and care that goes into raising Elkhounds, and they also came with some gifts, all were great but one was especially thoughtful and really nice. I have a photo of it attached as well. Check this out.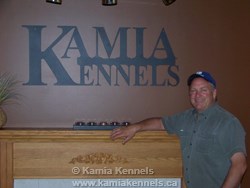 Randy carried in a brand new custom designed, laser plasma cut sign for Kamia Kennels. What a beauty! No Doubt.
We decided to put it over the fireplace, it fits great there, looks good, I take lot's of photos of the dogs in the house, especially by the fireplace so it sure is good to have that. I still haven't quit smiling, my Mom and Dad were also in on it, but they did not make the trip out this time though.
A big thank you to all.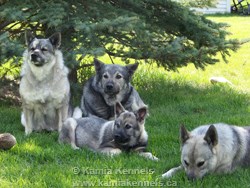 Mia, Takoda, Shasta and Tora
Tora and Mia have both came back to shape in record time, they are both muscled up, solid as a rock and quite frankly the best shape I have seen them. I took both of them down to the vet the other day to have a check up and Dr. Hidalgo just couldn't say enough good things about these two females. She is truly impressed with these girls. Tora is going to have a 2011 fall litter with Bram, she will cycle here in a short while and we have a lot of people waiting for those pups. After looking at Kaia, Ryker, Torsten, Kate, Cypress, Konig, and Teeka, most of that litter was spoken for before those pups were delivered. Tora and Bram make a great pair, no doubt about that.
I am always impressed with Mia and how strong she is, it's always fascinating in the early summer, they lose the winter undercoat and really all you have left is the guard hairs, you can then really see the definition and power they possess. Mia is wider through the chest than many dogs twice her size, in terms of sheer squat power and balance she just can't be beat. Tora and Takoda, they try their best to get her off her feet, no dice. Doesn't happen. She has a unique ability to keep her balance, combined with the fact she is basically as wide as she is tall, this has something to do with it. When they talk about the Elkhound to be square, she defines that. She is 20" tall, 20" long, and over a foot wide. She has virtually no fat on her right now, she milked it off, and she is running a very limited fat percentage and still weighs almost 50 lbs.
Tora is slightly taller, and slightly longer, exactly the same proportions, just bigger all the way around, and slightly heavier. Tora also, has an almost zero fat percentage after weaning those 7 pups and is at the 50lb mark as well, almost right back to her peak. When these two females decide to tune ole Takoda in, he is in it deep, no doubt. Little Shasta she is sitting there, she doesn't have a care in the world. She thinks she is the biggest of all. I have a recent update on Tora Female Elkhound.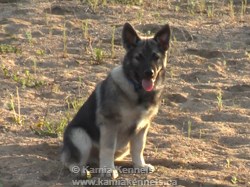 Torsten - Norwegian Male Elkhound
I recieved this great message shortly after Brian and Lindsey had made it home with Torsten. The photo shown is taken a short while later. He is close to 15 weeks in that photo.
"Things here have been awesome, Torsten is great, house trained when he came. Full of energy and life. He's been playing hard at the farm with Max, and everyone loves him. Slowly working on obedience , he has sit and stay down pat, but come here is going slowly. Been feeding him dry and raw beef, fish and chicken. Fishing season starts on the 15th so will see how the maiden voyage with him goes, been slowly working on him to get use to the water. He's going to be a handsome Elkhound, he's already guarding the house and lets us know when people come around also holding his own when playing with the huskies. Where so happy we got him, and you picked out the perfect pup for us thank you.
Talk to you later and will keep sending you pictures."
Brian and Lindsey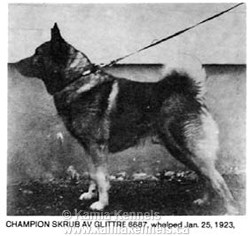 I can say this, when you get messages like that it feels pretty good, we knew that Tora was going to bring out her best and the pups from her and Bram would be terrific, you can see looking at Ryker, Torsten, Kate, her and Bram they make a good pair. Brian and Lindsay are familiar with Elkhounds, their family has a long history with them, and way back when Tora was young female they made the trip down to she her and our other dogs. They wanted an Old World Male, a big fearless boy, a fishing and hunting companion, a guard dog, an ancient Elkhound.
Take a look at an ancient photo, taken many years ago, this is not our dog, nor did I or my family take the photo, I came by this photo a long time ago, it was published in some paper, if I knew the name I would give credit.
They were a lineage of big black faced males these boys from this line in the old photo, some liked them some did not, they were sometimes too much for people. Our dogs go down this road, they are full old world working dogs, comparing Torsten to this old boy you couldn't tell that Torsten was born almost 90 years later.
Brian has posted Video's of Torsten on Youtube do a search on Youtube for Torsten 1 Elkhound and you'll see a few of them, he is doing great, or here is a direct link: https://www.youtube.com/user/MrBapsmith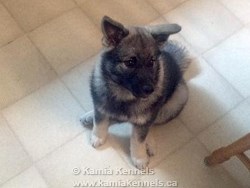 Norwegian Elkhound Female - Cypress << recent photos and update 2016
I get photos regularly from Ken and Linda, they also live on the West Coast and have a huge outdoor area they roam with Cypress and their min pin Nala. Both get along fine says Ken, and Cypress is doing fabulous. Cypress is shaping up to be a perfect female, she has an excellent disposition, very friendly and social, which where Ken and Linda are, this is a good thing. Both Bram and Tora are socialized, and very respectful, so it just makes sense the pups will be easy going pleasant dogs.
If you have an Elkhound, be prepared for people to come over, they are such a beautiful dog, that people are naturally drawn over to see and inquire, some people don't get to see an Elkhound too often and so they really enjoying the opportunity. We appreciate the great home that Ken and Linda provide, and the super care they give to Cypress, and we thank them for that.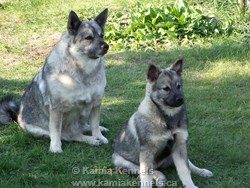 Mia Norwegian Elkhound Female - consistency defined
Mia is shown here with Shasta, Mia is approaching five years old, she has been a rock for consistency in passing her desirable traits to her offspring. You could look through all the pups and see great dog after great dog. Mia's daughter Tora is producing another outstanding set of pups, it's again easy to see the consistent quality. We have taken a great deal of time and put a fair bit of thought into our program, we have spoken with our vet, she has advised us after a full examination that Mia is in excellent shape and could easily be bred one more time.
We have decided based upon a large number of factors, to use Mia in one more litter and hold back any females in the hopes that they will turn out to be high end breeding females. We are most certain of Mia's ability to stamp her females with quality. We have decided to use Bram as the male to this match-up. This gives us two full Norwegian and then we can use Takoda to combine with those females, as the pairing of Mia and Takoda is extremely good, so it would make sense that Takoda combining with these females would be every bit as good or better.
That will leave a few Male pups available, of course depending on litter size and gender but someone will have the opportunity to get a spectacular Male, as we won't hold back any Males. If you are interested in a Male pup from this combination of Mia and Bram, contact us and speak for him right away. Mia has always been mated to Takoda to this point, so to match up with Bram provides a very unique and exciting set of pups. This pairing is full Norwegian type, so these pups will be showpiece animals.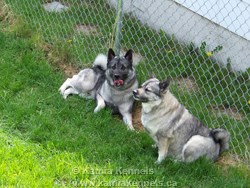 Both Bram and Mia are exactly on breed standard, old World Norwegian Elkhounds, the pups will be exactly on breed standard and you would be hard pressed to find a better pair in North America. Bram is a young male, yet he has proven he can produce some excellent pups, he is only 1 generation removed from Norway, and from Champion lines, combining with Mia's more than proven ability to produce, this is a very powerful combination. We can hardly wait for the pups to arrive.
Bram and Mia are shown here on June 15th, 2011. If you want to see consistency, Mia is it, she cycled on December 16th 2010 previously, she has done this consistently throughout her life, you could write a book about the cycles based on her. As you may or may not know, having a breeding Male in the same vicinity as a female in heat is a wild man show, especially when he can't get at her. Takoda has always been with Mia, so this time he is not, but he knows she is in heat, talk about chaos. Big Males like Takoda they are absolutely crazy if they can't get to the female, he makes such a racket and such an effort to get there, wow. Good thing Bram is a few hours away, and Takoda can't get to him, because if he knew what was happening, young Bram would have to be low-tailing it out of there.