Breeding Update - Elkhounds Norwegian / Swedish - Elghund / Jämthund
Norwegian Elkhounds - Swedish Elkhounds - Jämthunds
I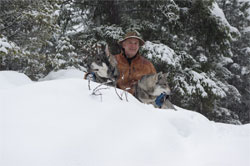 t's fairly common when discussing Elkhounds, especially in Canada or North America that most people immediately think "Norwegian Elkhound", they don't normally recognize the other type, the "Swedish Elkhound". Both Elkhounds have been in the Northern regions of Sweden, Norway, Finland, Denmark and throughout the Scandinavian regions for centuries. The Swedish Elkhound is now more formally known as the Jämthund dog.
I am fortunate to be the only breeder of these magnificent Jämthund dogs in North America. I will do my best to share the background and the history of these great Elkhounds with you. We will be discussing the Norwegian Elkhound and the Swedish Elkhound litters that are coming in this update. We currently have the Ria and Posso litter on the ground now, Swedish Elkhounds!
Sage and Willow Pups Are Here, Both Bred to Karu
We are very excited to have the Sage and Willow litters, both were bred to Karu. These are some of the very best Norwegian Elkhounds in the world. The pups from these two sisters are 5th generation pups for us.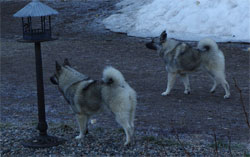 Wow, these two amazing sisters each have a new litter with Karu.
This is one of the greatest genetic pairings in all of the Norwegian Elkhound breed. These two females of course are two of the very best in North America and rival any females world wide. Karu is the tremendous sire from Finland, his background is simply legendary.
We have had this incredible pairing before and the pups from these dogs are truly outstanding.
I will feature some video of Karu and the pups from this combination.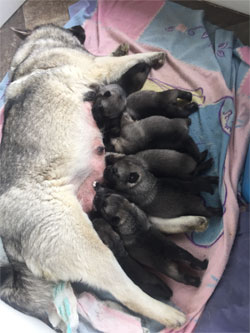 These are the Willow 7 - Magnificent Pups, all fat and healthy.
What an incredible set of Norwegian Elkhound puppies once again from this spectacular female.
She is such a great Mama, and Wendy and Dale, they do such a wonderful job raising all these magnificent pups.
Look at those rascals will you, haha.
Willow is a daughter of the world Famous Pretty Boy Leif and her Rock Star mama, Tika.
Tika is this incredible daughter of Bram and Tora. She is truly outstanding.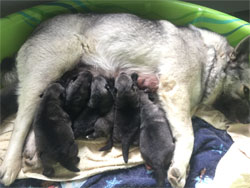 These are the fantastic Sage Seven. Oh My God, how great is this?
Both these incredible sisters have matching litters only a few days apart, both bred to the Legendary Karu.
Can you believe it?
Wow. Sage as well is a daughter of Pretty Boy Leif and Tika.
Both of these females are Granddaughters of the Magnificent Tora and Bram.
More Photos of these two litters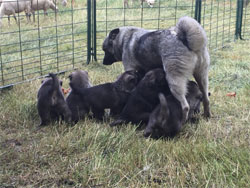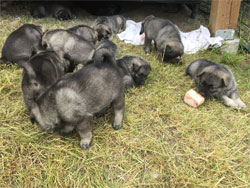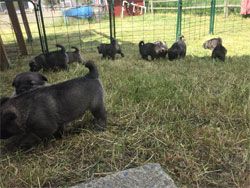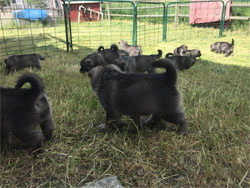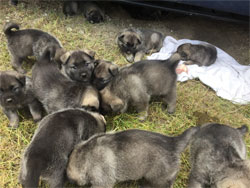 This is the magnificent Karu, he was born in Finland and his ancestors are legends over there, true hunting bloodline.
Grey Wind and Sigmund - Two Sons of Willow and Sage.
So these are the incredible sons we expect to get yet again from the Willow and Karu, and the Sage and Karu pairing. A son of either is shown here from a previous litter. Look at these magnificent boys.
You can contact me directly about this litter. These are again 5th generation Norwegian Elkhounds from our Kennel, thousands of generations old. Extremely good blood lines.
Norwegian Elkhound Female Tika - Mother to Sage and Willow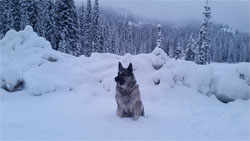 We are so very proud of Tika. She is over with Dale and Wendy and they have been part of our program now for a decade. Tika is the mother to Sage and Willow. She is an incredible daughter herself, of Tora and Bram. This particular genetic is one of the very oldest in the breed and she has proven to be one of the greatest females in preservation breeding of all.
I have a great video below of two boys from Sage out hiking the mountains with MANE. You will be getting pups exactly like this, these boys are 5th generation pups and are amazing mountain dogs.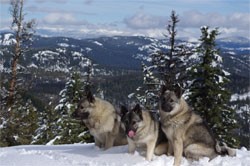 The Norwegian Elkhounds we have are the old lineages. They are stout working dogs. We have some of the best lines in North America based on true instinctive traits, with nothing bred out. Our girls like these three, Kamp and her daughters Tuva and Tekla are a perfect representation of what the breed was designed for. These are the big Norway girls, Kamp was always at 60 pounds, her daughters are not far behind her. These two girls, Tuva and Tekla are not quite two years old in this image, from February 21, 2016.
These girls can hike remote regions all day. Keep in mind they are all off-leash. I can travel a thousand miles with these girls and rarely would I have to say a word to them. They are full ranging Elkhounds, bred to watch out for the handler. These girls are powerful, we are hiking in extreme conditions, it's deep snow getting up here, we are around the 4900 foot elevation, and it's work to hike up here. I have snowshoes on but they rarely follow my trail, instead make their own. They are the perfect dog for a family wanting a companion dog for any adventure. They are just as easy going around home as they are in the mountains. These are a very versatile breed. In my opinion, the Norwegian Elkhound is the very best family Dog!
Tosha and Helix - Helix is a son of Posso and Aina - Posso and Ria Swedish Elkhound Litter Is On The Ground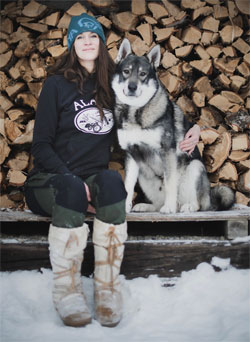 I have a fantastic photo from Tosha that she sent me sitting her with her big boy Helix. Tosha has one of the very best Swedish Elkhound males in the world. This is a Posso and Aina son. She has done an incredible job with this big fella. He is amazing.
Now Ria, the daughter of Aina and Rico, she has her new litter on the ground. What an exciting time.
Ria and Posso have already had one litter together and the pups are incredible.
Ria is a big stable easy going female and Posso brings such a great nature and fun attitude and carefree nature to the pair. He is a very fast easy going big fella.
He loves the handler that Posso, such a fun guy.
You can contact us about the upcoming litter of Jamthunds and we are so excited about it please reach out to us soon.
This is a video of the latest litter of Jamthunds from Ria and Posso. Amazing pups, you can contact us about these incredible Swedish Elkhounds.
We are super excited about the Ria and Posso litter we hope you are as well. Contact us. Thank you.
This is a video of famous Posso, son of the world class Finnish Hunting Champions. Posso was born in Finland and is truly remarkable. You will also see Ria's incredible sister, Aila. She is a truly stunning beauty as well.