Breeding Update - Elkhounds Norwegian / Swedish - Elghund / Jämthund
Norwegian Elkhounds - Swedish Elkhounds - Jämthunds
I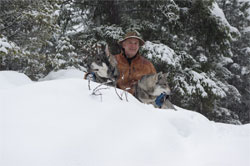 t's fairly common when discussing Elkhounds, especially in Canada or North America that most people immediately think "Norwegian Elkhound", they don't normally recognize the other type, the "Swedish Elkhound". Both Elkhounds have been in the Northern regions of Sweden, Norway, Finland, Denmark and throughout the Scandinavian regions for centuries. The Swedish Elkhound is now more formally known as the Jämthund dog.
I am fortunate to be the only breeder of these magnificent Jämthund dogs in North America. I will do my best to share the background and the history of these great Elkhounds with you. We will be discussing the Norwegian Elkhound litters that are coming in this update.
Sage and Willow Both Bred to Karu
We are very excited to have the Sage and Willow litters, both were bred to Karu. These are some of the very best Norwegian Elkhounds in the world. The pups from these two sisters are 5th generation pups for us.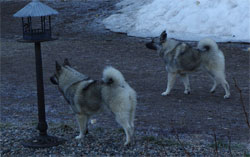 Wow, this is so exciting. This is the second litter of pups from both Sage and Willow sired each time by Karu.
There are 11 pups between them, 1 female, 10 males. All some of the very best we have ever raised. Wendy and Dale have Sage and Willow at thier home just a couple hours from us. They have Grandma Tika, as well as the other two sisters, Cedar and Aspen. Wendy and Dale have worked with us for a long time and we are so proud to have them part of our program.
These pups are incredible.
Here is a video of two boys from Sage from the last litter, check out how phenomenal these boys are. That is exactly what is on the ground over there right now.
Contact me directly about these pups.
Letta and Karu are also having a litter late January.
So the pups from Sage and Willow are pretty much identical to the Letta and Karu pups coming. Letta is a daughter of Kai, and Sage and Willow are daughters of Tika.
Tika and Kai are full sibling sisters. They are daughters of Tora and Bram.
The Sage, Willow, Letta sisters are all daughters of Pretty Boy Leif.
Karu and Letta with son Hercules from last litter
You can contact me directly about this upcoming litter. These are again 5th generation Norwegian Elkhounds from our Kennel, thousands of generations old. Extremely good blood lines.
Norwegian Elkhound Females - Kamp and her daughters Tuva and Tekla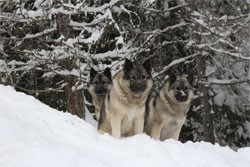 We have some outstanding Norwegian Elkhound females at Kamia Kennels. Kamp is shown here with two of her daughters on either side. Tekla and Tuva are incredible females. We are so excited to share that Tekla is going to be having another litter in December with Pretty Boy Leif.
These pups coming are going to be incredible. You can contact me about these pups.
There are no end to great dogs featured on this site with this genetic set. It's an amazing chance to get a pup from one of the very best females in the world, Tekla.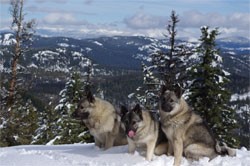 The Norwegian Elkhounds we have are the old lineages. They are stout working dogs. We have some of the best lines in North America based on true instinctive traits, with nothing bred out. Our girls like these three, Kamp and her daughters Tuva and Tekla are a perfect representation of what the breed was designed for. These are the big Norway girls, Kamp was always at 60 pounds, her daughters are not far behind her. These two girls, Tuva and Tekla are not quite two years old in this image, from February 21, 2016.
These girls can hike remote regions all day. Keep in mind they are all off-leash. I can travel a thousand miles with these girls and rarely would I have to say a word to them. They are full ranging Elkhounds, bred to watch out for the handler. These girls are powerful, we are hiking in extreme conditions, it's deep snow getting up here, we are around the 4900 foot elevation, and it's work to hike up here. I have snowshoes on but they rarely follow my trail, instead make their own. They are the perfect dog for a family wanting a companion dog for any adventure. They are just as easy going around home as they are in the mountains. These are a very versatile breed. In my opinion, the Norwegian Elkhound is the very best family Dog!
Vana and Karu Norwegian Elkhounds - New Litter in December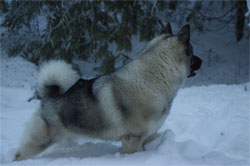 I show you here the father to Vana. This is Loki. What a magnificent male he is. He is a son of Tekla and Pretty Boy Leif.
So that litter of Tekla directly above will produce boys exactly like this big fella. This is an amazing Norwegian Elkhound male.
He was bred to Vida to produce Vana. Vana is a unique pup for us as this combination of parents, Loki and Vida are the first set of parents that I have raised both sides. This is a milestone for any breeder to have two outcross old world genetics of this caliber. So we are very proud of this breeding pair, and of course Vana, as well as her siblings.
By all means, check out Offleash Hiking Dogs!
I have recently put up another article on Telka and Tuva, it has some awesome photos, check out these Norwegian Elkhound Females.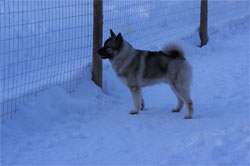 I have a lot of details on the father of Loki, his name is Pretty Boy Leif. He is featured all over this site. Seb and Carsen have Loki out with them and they do such an amazing job with this big fella. He gets the greatest workouts and training as well they hike to some fabulous places.
High mountain vistas and scenic views, it's amazing. They love this big rascal.
So if you want a pup from Vana and Karu, or from Tekla and Pretty Boy Leif, contact us.
Pretty Boy Leif is the father of Willow, Sage, Letta and Loki. Amazing right!
We are super excited about the upcoming litters, we hope you are as well. Contact us. Thank you.