A Great Day with Our Family Dogs, the Elkhounds
Both Ashten and Jay were able to make it home during the summer break from University and Marlene and I had a few great days while they were here. It was a super sunny day when we went out west with all the dogs and spent the day hiking and having a picnic. Young Jaegar was able to show off his swimming skills to the other three, who by the way don't go in the water, they thought he was nuts. Jaegar was jumping off cliffs, burning around, he is fearless and has a great time out with the big dogs.
The more remote the area the better the dogs like it, the area all around west of us is miles of mountain hiking so it's great to get everyone out together. We set the timer on Jay's camera for this photo, it took a few no doubt, but the far left is Tora, she is a daughter of Mia next to her, and Takoda, who is on my left, and Jaegar is a male from Mia and Takoda, different litter. Jaegar is six months in this photo, Tora is just over two, Mia Five and Takoda Four.
We are going to use Jaegar in our breeding program, I have to find him a great female now that we are happy with how he is developing, he is a magnificent male and we are very excited about him, he is our Daughter Ashten's dog and she is doing an incredible job getting him developed and trained. Jaegar has a new litter elkhound of puppies on the ground Dec 15 2016.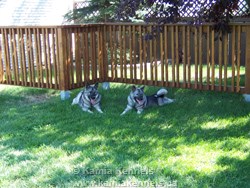 Teeka - Female Norwegian Elkhound - visits with Jaegar
Denise and John took the time to drive up to see us on a lovely summer day and to let Teeka visit with Jaegar. Teeka is a beautiful female from Tora and Bram, she is a very energetic female, with terrific markings, lot's of deep dark grey from Bram, and some good solid stature and balance from Tora. Bram has stamped his dark face onto all the pups and Teeka is a beauty. Teeka is shown in this photo at six months with Jeagar, who is also six months, they were born just days apart, a couple yards from each other.
Denise and John are long time Elkhound owners, have had dogs all the time and have raised a very well mannered and well behaved young female. They are really good around dogs, and Teeka has it made, we thank them for giving her such a great home and providing her with such great care and attention.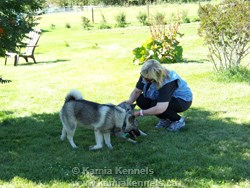 Teeka - Norwegian Elkhound Female and Handler / Owner Denise with Tora
Here is a great photo of Teeka getting reacquainted with her mother Tora, Denise is really good with Tora and they were having a good visit. Tora can be a little gruff to say the least around other dogs, so Denise was able to make the introduction very pleasant and easy for Teeka. Norwegian Elkhound female breed standard height is 19 1/2 inches give or take, Teeka is going to be right in the top end. She stands about an inch above her grandmother Mia, and is getting close to the same height as Tora. She is very well balanced, has truly excellent confirmation, her stance is really good and is even and stable. Because Tora is a large female, Teeka has retained some of that.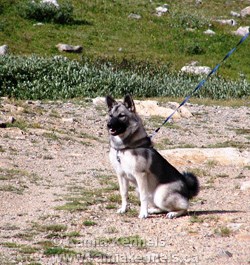 Kaia, Elkhound Female at 11K ft in Colorado
Lot's of time and planning goes into a successful mating and selection of pairs, when you start out you might wait for a couple years to see how the young male will turn out or, your own female, etc. But once you decide to move forward with that pairing your then really anxious to see the result of your planning. Well looking at Kaia, and Teeka above, and all the other pups from Tora and Bram, it's been a most successful pairing.
Take a look at that Kaia, whoa man, you couldn't find a nicer female. These girls of Tora's are really spectacular young females. Kaia has that dark black muzzle, dark black saddle same as Teeka coming through from Bram, she has the muscle and shoulder development from Tora and she goes back a generation or so to Takoda for that extra height and dominance.
Elkhound females like this are highly sought, people for centuries have loved the Elkhound, and a female like this is as good as any out there, no doubt about it. An Elkhound female should be a personable dog, sharp and attentive. She should be alert, well balanced emotionally and physically. Strong and agile, should have excellent lung capacity, chest should come down below the elbow, shoulders should be powerful for dodging and moving in heavy brush, and the hips and rear quarter balanced and strong, they should be as if on springs.
The head needs to a flat skull, same plane as the muzzle, same length, ears need to be well shaped, slightly narrower at the top than the base, muzzle should be even taper. Kaia has every feature in such a way that you could write a standard on her.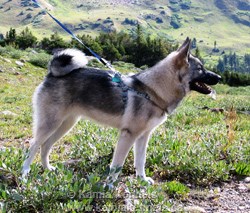 Take a look at that black tipped tail, both Bram and Tora have show piece tails, they didn't slack off giving Kaia the same. Both Bram and Tora have perfect feet, as does Kaia. Her eyes are well protected, if she is anything like her Mother Tora, which she is, she will be handing out a few scars in her life to some impatient, unruly male or female, her eyes are well protected in case of battle. Nowadays a good old fashioned dog fight is not as common, dogs just don't roam around like the old days as much, so she doesn't have to protect her turf as devoutly as her ancestors, but to us, these traits are important. We raise old world dogs, a dog that is the same today as it was 1000 years ago, or longer.
These females can scrap if they need to, they have the instinct, it's not bred out, they protect their turf, their young, their pack and are fearless. I can say this about Kaia, she has that dominant look that comes from centuries of dominant dogs in her heritage. She carries herself with a great deal of confidence. You don't raise that into a dog, that's genetic. That comes downhill, you can't put it back if you breed it out.
You could look at every show female you wanted to in the last 50 years, you couldn't find a better representation of the breed and the characteristics of the old world Elkhound than Kaia. The sheer fact that she is just everyday in better stance and position and exudes more confidence just sitting and standing than any posed dog is a testament to her quality. This is a good female. This is a confirmation of confirmations that Bram and Tora work.
A special thank you to Paula and Steve, they have done an incredible job with Kaia, have provided her with every opportunity to grow and develop and our gratitude goes out to them for the great home Kaia has.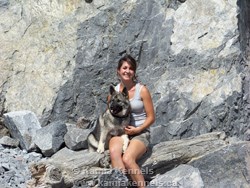 Jaegar - Male Elkhound With Ashten
Every day Jaegar is developing into a better and better young Male. Ashten has a true friend, a long time companion and loyal protector. Jaegar is shown here at just about six months, he is from Takoda and Mia. He has a ton of stamina and is big boy. He is coming near to 55 lbs at the current time at 8 months. We took the photos in late summer. He will soon outweigh Takoda and be considerably thicker and stronger. Jaegar represents the old world boys my dad speaks of, the big thick old world males, pound for pound one of the most formidable dogs.
Jeagar is a nice boy, he is an urban Elkhound, he has manners, and he is social, and doesn't cause any trouble, and for the most part he approaches all things amicably, however, I have seen him when he felt a threat, he showed every inch of his heritage and he has a bark and growl and stance, the hair on my arms and neck went up, I was outside when I heard him, and no fooling these elkhounds if something is out of line, they are going to deal with it, and Jaegar has a big bark, and he uses it. I will say this, I would place my life in his stead in a dire situation. He is all Elkhound, urban, socialized, nice guy or not, he is Takoda's boy, no fooling.
Years since I put this newsletter online, I did in fact have to place my life in his hads, check out: Wolves and Elkhounds!
Ashten had Jaegar down with her this summer, we were hoping to provide him with some opportunity to work with Takoda. Ashten has him pretty nice, perhaps if you will a little too nice, don't get me wrong everyone wants a dog with Jeagar,s behaviour and personality for the most part, however we tend to want our Males a bit more old school, a bit more aggressive if you will. So we were hoping to have Jaegars' instincts opened up a bit, but he is such a nice guy that it might not change much, he is just a real good boy.
Some Elkhounds go in water and have a great time, some don't. Jeagar he goes right in, just bee lines it for the water. In this photo Jeagar is looking over, as if to say hey, Dad where you going, and Takoda is like, don't know you, I am not going in the water, no thank you. Takoda and Mia, or Tora, they don't go in, Jaegar we had to get a wading pool for the yard for him. The other dogs it's like oh a great big water dish, Jaegar he hops in lays down, they are like ready to tear him up.
Jaegar takes all the good traits from his heritage and blends them into a terrific powerful combination. We are very proud of him. We are also very proud of Ashten and the job she has done with him is outstanding, she is a world class handler, no doubt.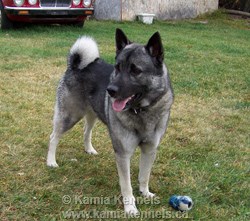 Bram is excited to see Tora again
A few days ago I took Tora down to mate with Bram. He was so excited he was beside himself for a good hour, he is a good fella though he settled down to business after Tora was giving him some static for fooling around. Bram is one of the rare dark, almost black Norwegian Elkhounds. You don't find them in North America very often, many are the silver grey, more like Tora. Bram comes one generation removed from Norway, he has every trait you could wish for in a good male.
Bram is well balanced and even from front to back, tends to stay on the lean side, but is so energetic it's hard to flesh him out. He has the beautiful black fine coat, pure black top back and it comes way down the sides. His face is very dark with a great set of eyes and ears. The dark black Norwegian males were prized for centuries, they are extremely good hunting dogs and they excel in the bush. Bram is a perfect match for Tora, his lean athletic style blends so well with her muscular stout features to bring forward some amazing pups. Take a look at Teeka, at Kaia, Ryker, Torsten and the others, truly amazing.
A true Norwegian Elkhound type, no Swedish type in his background for over a 100 years, and no blood outside Scandinavia in his background this is exactly as you would have seen a Norwegian Male in 1877. Tora's lineage is old World with a predominant Swedish type background, so they are the perfect match. Bram is a good natured male, he does not like or accept strangers though, true to his nature, and he is vocal when anything moves around his place, no doubt.
He had his hands full with Tora, no fault of his own whatsoever, Tora is not a typical female, she doesn't accept any dominant behaviour and is quick to set the record straight. Bram is not shy by any means, but he was fully aware she outweighed him, was eye to eye with him, and was not one of those bouncy run around and play types. He settled down the second day we arrived and he was right to business, no fooling around, then they had some time to just hang out a bit.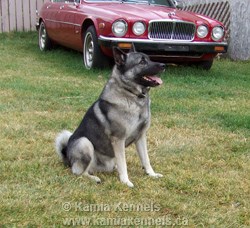 As a breeder you always hope for better dogs than both parents. You always hope to retain all the breed characteristics, and above all never breed out any ancient trait, leave all intact. This combination has proven the pups can be every bit as good as either parent. This is a very potent combination.
One thing about the black type Norwegians like Bram's lineage, if they sense a threat they can become very protective of their pack, litter, family etc. This is not a dog you want to meet who's house you have just entered into through the window and meet up with at 1 a.m. trying to pull a fast one. Males like Bram do not accept strangers and guaranteed you meet this big fella trying to do harm to his family and you will be having what they call a very bad day.
The Norwegian Males though are more accepting of other dogs, they are not quite so fast to become aggressive to other dogs as where the Swedish type, they just don't tolerate other dogs much at all. The Norwegians are nice to train, however they are a bit more stubborn and independent, not quite as communicative over distance to the handler, but still a very easy dog to work with, providing of course your training to his instincts.
A great deal of effort is put forth by Cathy and Blain and family to keep Bram in top condition. He is extremely well taken care of and loved by this family. They are all great with animals. We thank them immensely for putting their confidence in our program and dogs as well and allowing us to use Bram and his genetics. Cathy knew when Bram was just a pup he was going to be a great male, she contacted me shortly after they got Bram and suggested we stay in touch and perhaps we would have an outstanding female he might work with in a few years. Well, thank you Cathy for that foresight, we can all see in Teeka, Torsten, Kaia and the others how right you were back then.
It's tough at any time to get a photo of Elkhounds, they are constantly moving, and at this particular time with mating, it's basically almost impossible, however we did manage on the second day to get a few good shots of these two together and those above of Bram finally not moving a hundred miles a hour. This photo shows why Bram was a bit concerned about his good looks. He is used to running into and hitting the majority of dogs and they roll over or move away, play, something, even much larger dogs. Tora is a pure block of steel, he would run and push right into her to try to knock or move her or play or promote play, she didn't even flinch, it's like he ran into the cinder block step. The first time he did it he looked at Cathy and I as if to say, you've got to be kidding, what is she eating. He is persistent though and he stayed the course and got the job done, we can't wait till December.
Takoda, Marlene and I - and an amazing event, truly unbelievable
It wouldn't be a newsletter without something on the big fella, Takoda. He is a great male, such a faithful companion, always waiting to spend time with me. Marlene and I enjoyed our time out with everyone, we are taking a break here in this photo with Takoda. He is just watching Jaegar splash around.
A neat thing happened to him and Mia the other day, they were in the field and directly on the other side of the fence in the neighbours pasture a cow moose runs out, they both burn over and can't believe the good fortune, this is it they think and then whoa man, a big bull moose comes walking out, right up to the fence, only feet away right up to the dogs. I didn't have time to get my camera it all happened so fast. The two dogs were trying to mesmerize these two Moose, they would have given anything to get to the other side of the fence only feet away is all they needed and they could have circled these two and kept them there for me.
It's a neat methodical bark they have, first time they have been in front of a Moose but instincts kicked in immediately, no hesitation. The big Bull didn't feel much like hanging around, he lowered his head, took most of the neighbours fence with him and left, the cow followed. Both Mia and Takoda were wound up for some time, you can bet on that. What are the odds of that, too unbelievable. They could have went in any yard, any pasture, but as luck would have it right in front of two of the Premier Moose Dogs in North America and not just one, but a large Bull and Cow, it was like the Moose came by to say hello and pay respect and what are the odds that I would be in the yard at that time to witness that, go figure.
I have recently updated the Elkhound Growth page, Takoda is coming 8 as of this update. Takoda is still the top Elkhound Male.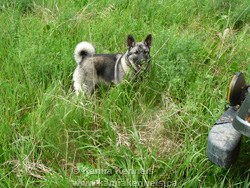 Torsten - Norwegian Male Elkhound
I receive some regular updates from Brian and Lindsay on Torsten, he is really growing and developing well, what a terrific Male. Torsten is a big black faced boy from Bram and Tora, he is well mannered, well behaved, he competes in Agility and is a very stable young male.
Elkhounds like Torsten make the best dog you could ever wish for. They are loyal till death, they listen and pay attention. Elkhounds from the Takoda lineage are communicators, they stay in touch with you, they don't ignore you. They work with you. This is a fearless breed of dog to begin with, some lines just have certain traits closer to the surface, Bram and Tora both have protection very close to the surface, it's present in their nature at all times, they are watchful, this is present in the pups like Torsten.
I can't wait to see how he continues to develop and we'll keep you posted on him thanks to Brian and Lindsay, a special thanks to them for such a great home he has and the attention and effort they put toward him.
Brian has posted Video's of Torsten on Youtube do a search on Youtube for Torsten 7 Elkhound and you'll see a few of them, he is doing great, or here is a direct link: https://www.youtube.com/user/MrBapsmith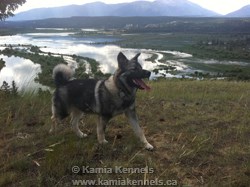 Norwegian Elkhound Male - Ryker
A big thank you to Amber and Chris, they keep me posted on Ryker, one of our favourite pups from the Tora Bram first litter. Ryker was a big pure black faced big fella, if you saw any of the photos of him as a pup, he was unforgettable. He was so calm and steady, still is just as calm as ever Amber says.
Ryker is a brother to Torsten, and his resemblance to Bram is unmistakable. Bram came through loud and clear in Ryker. These are some good boys these two. One thing about a good elkhound is bone breaking jaw strength. There is no messing around with bones for these two, they have the jaws of old, full of power, big strong stout dogs. Feeding raw keeps the bone structure intact, there is no diminished size as there is when you feed processed food in breeding programs. Tora gets raw as her parents have, she passed the genetic strength intact to the pups. If there is one thing Pottenger taught all of us with his cat study, it's that bone density, skull size, etc. all shrink when feeding processed. Take a good look at Rykers jaw and muzzle, he'll snap a big turkey drumstick clean in two without a second of hesitation. We feed all our dogs and the pups raw, we want all the traits passed down intact, Ryker is a perfect example of a healthy well developed young male with tons of power.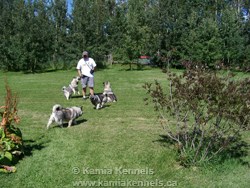 Mia Norwegian Elkhound Female - surveys the turf
Mia is shown here in the foreground, John is up to visit with his wife Denise and Teeka. It was a pleasure to have them. John has a neat packet on his belt that holds his treats. Now Tora she has never had a treat as such, Jeagar he gets a few, but the scent of these treats had these two dogs basically where John went, Tora and Jaegar went. Tora, always trying to actually get into this packet, she is standing trying to get into it, Jaegar, he knew enough to at least sit for a treat. John was busy handing out these treats and trying to keep them from getting them all. Mia, she is walking around taking a look at this whole crowd.
Tora is her daughter, and Teeka is out of Tora, so it's granddaughter Teeka, and Jaegar is a son to Mia, yet only a a couple days differentiate the birth of Teeka and Jaegar, and while they are all acting crazy, burning around, trying to get these treats and really showing off, Mia is like, oh my, what have I done. It was pretty funny to see, she was shaking her head.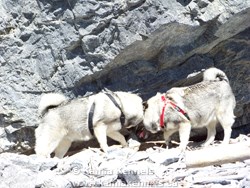 Elkhounds are like Big Horn Sheep or Rocky Mountain Goats, they scale around on the rocks and ledges with ease. Sometimes there is a narrow trail, and in most cases, the Younger stronger of the two get the right of way, well, not just as yet according to Mia. Tora goes head to head with her, but there is no moving Mia, this is her environment, she is a rocky ledge Elkhound through and through. Tora eventually has to go around Mia. Mia is on the right, Tora the left.
Mia is in excellent shape, twenty plus pups and you couldn't find a stronger, more agile female. She retains her condition, gets around like a pup, is still completely in charge of the whole place, still hands out scars and affection the same as ever. Never misses a beat, never whines, never asks for a thing, doesn't bother anyone, keeps a tight rein on manners from all around her, is truly a superb female. Never shirks a task, always ready to go and work, watches the place day and night. Is not afraid or shy of anything other than the vets floor, she doesn't much like that floor. Has never had a bad day.
Elkhounds are pretty much trouble free, you rarely see any issue with an Elkhound, they just motor along, no worries, no fuss and are active basically right to the end, and Elkhounds live a long time.
This past summer was pretty nice weather, I was able to get out with the dogs and camera on some truly great days, of course the dogs prefer cooler weather but they have a really fun time no matter the season. We took the day and hiked up to the highest location we could find so that we could look back on the whole valley. There is an area that has been logged in stages all through this one valley we can go to and when we hike up to the North I can see for miles both ways to the south, all the way from the East to West and see back across the whole way we came. In the first photo you'll be able to see the valley floor, the clear cut logged areas across through which we came, and you can see the dust on the logging road where we parked slightly to the right. It took us hours to get up here and when we got to the top everybody was happy to stop and take a breather. In the first picture Mia is in it but hard to see, she found a nice little shady spot by a young new tree. We had some lunch, some water, the dogs had moved up a big buck on the ridge, other than that we didn't see anything. We went right to the end of the logging, the tree line at the top. There would have only ever been us and the loggers up there. These are ancient lands, having Elkhounds one of the most ancient breeds travel through this region is pretty neat. This whole area is basically only opened up to people for a few hundred years, the local Aboriginal people stayed pretty much to the river areas where it was easy going.
There are very few Elkhounds in Canada, and in this region I basically never see one outside my own. These are the very best dogs in the world for this type of day. There are risks in hiking in these areas. Bears frequent the hills for berries and find grubs galore under the old logs, the cougar comes through here, not as frequent, but they have been spotted. I have seen extremely large wolf as there are big packs through this part all the way from Banff to Jasper. The Elkhound is an air scent dog and a formidable bear dog. Had we met one, the bear would have had a very bad day with these three, they would have put the run on him. Only a big ole Grizzly is going to want to stand and face off with three aggressive predators.
Most breeds of dog are a problem in bear country, they tend to aggravate the bear, then run back to you, basically leading an angry bear to you. Elkhounds operate completely different, they operate like a Karelian Bear Dog, and have been used for centuries in the same fashion, they move the bear away, they never back off to you with the bear, when there is a threat they take the fight forward, protecting you at all times. They would engage but traditionally a dog will rarely if ever have to engage, a bear would move off quickly from an aggressive vocal threat, and if there are multiple dogs, they will always move off. The dogs give you time to get out of danger. You do not want to hang around and be a spectator, get hoofing it clear of the bear. If it was a mother with cubs, it is going to be a nightmare, you want to take the time the dogs give you to get gone. They can look after themselves. Way down the trail you can call them, they will follow your trail back to you, they have instincts to return to the handler once the danger is moved off, they also know, we are not wanting to tangle with a bear, no matter what we might think. No one wins that and they know it as well.
Keep an eye on your dog, he or she will tell you immediately you have something out of line. Lot's of people don't understand the body language of a dog, they miss the early clues to be alert, and most other breeds of dogs miss all kinds of clues of danger and give you no early warning. Air scent instinctive hunting breeds are going through this region completely functioning at a much different level than walking through with say a retrieving dog or herding dog. These dogs, the minute they hit the ground once we arrive it's like, okay, time to work, its like a Swat meeting for Law Enforcement, okay guys stay sharp out there. These guys are on full alert till we return, they instinctively know they have a role to perform, this what they were bred to do, this what they live for. Walking and hiking through a region like this with dogs of this breed and calibre, that is an experience no doubt about it.